Contact us to know more about the Covenant of Mayors in practice.
Covenant of Mayors Office
63-67 Rue d'Arlon
B-1040 Bruxelles
Signatories
The fight against climate change will be won or lost in urban areas. A vast majority of the European population lives and works in cities, consuming an estimated 80% of the energy used in the EU. Local administrations, as the closest government level to citizens are ideally placed to address climate issues in a comprehensive manner. More and more cities are thus deciding to take up the challenge, as shown by the growing number of Covenant of Mayors signatories.
Signatory cities vary in size from small villages to major metropolitan areas such as London or Paris.
The commitments for Covenant Signatories are linked to the European Union's Climate and energy policy framework. These include the European Union's climate and energy package for 2020 for signatories who have joined between 2008 and 2015 and the European Union's 2030 climate and energy framework as well as the EU Strategy on Adaptation to Climate Change for signatories joining after 2015.
As of October 2015, Covenant signatories commit to adopting an integrated approach to climate change mitigation and adaptation. They are required to develop Sustainable Energy and Climate Action Plans with the aims of cutting CO2 emissions by at least 40% by 2030 and increasing resilience to climate change within the first two years of adhesion.
The list of cities that have signed up to the Covenant of Mayors can be found below.
Berbenno di Valtellina
Signatory
Covenant status
| | |
| --- | --- |
| Date of adhesion: | 28 April 2015 |
Contact
| | |
| --- | --- |
| Main contact: | Giorgio Tavelli |
| Position: | deputy mayor |
Benchmarks
Riqualificazione energetica edifici scolastici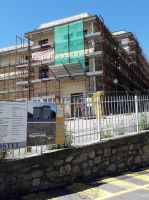 Sector:
Municipal buildings, equipment/facilities
Implementation timeframe:
2015 - 2019
Area of intervention:
Building envelope
Policy instrument:
Not applicable
Responsible body:
public works dep
KEY FIGURES
• CO2 reduction :
37 t CO2 eq./a
•
Energy savings (MWh):
185.76 MWh/a
•
Implementation cost (€):
305000 €
Description:
E' stata completata la riqualificazione energetica della scuola secondaria di primo grado, con sostituzione dei serramenti e posa cappotto esterno; si prevede entro il 2019 di intervenire analogamente anche sulla scuola primaria.
Financing sources:
Local Authority's own resources, National Funds & Programmes
Rate this benchmark:
(0 vote)
Disclaimer:
The sole responsibility for the content of this website lies with the authors. It does not reflect the opinion of the European Union. The European Commission is not responsible for any use that may be made of the information contained therein.